Camping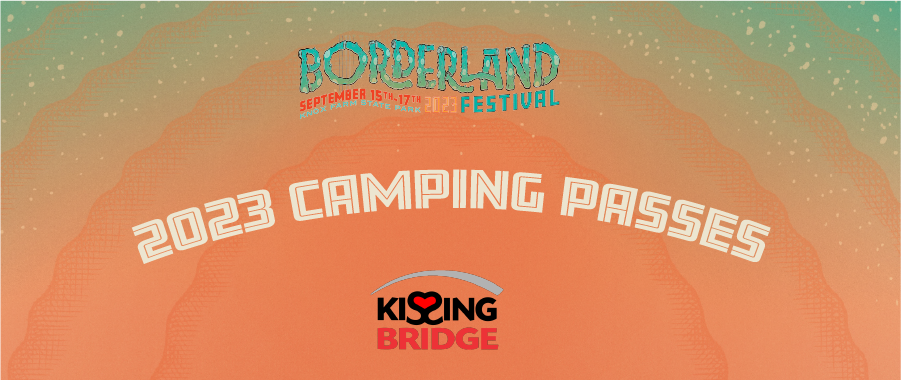 KISSING BRIDGE WEEKEND 3-DAY
TENT CAMPING & RV PASSES
We're excited to announce our first Official Borderland Tent Camping experience in partnership with Kissing Bridge Ski Resort! There's now a close, fun and affordable way to experience the Borderland.

Camping Passes & RV Passes On Sale here: https://borderlandfestival.fro...

The resort is less than 15 miles away from the festival. Join us for the official Borderland after-party, shuttle rides to and from the festival, complimentary festival parking and camping all weekend long.

Check out their website here: https://www.kbski.com/


WAIVERS
EVERY CAMPER MUST SIGN A WAIVER. DOWNLOAD, PRINT, SIGN AND BRING TO CAMPGROUND ENTRANCE.
ADULT CAMPING WAIVER - DOWNLOAD HERE
MINOR CAMPING WAIVER - DOWNLOAD HERE

OFFICIAL AFTER-PARTY ANNOUNCED!
CAMPING MAP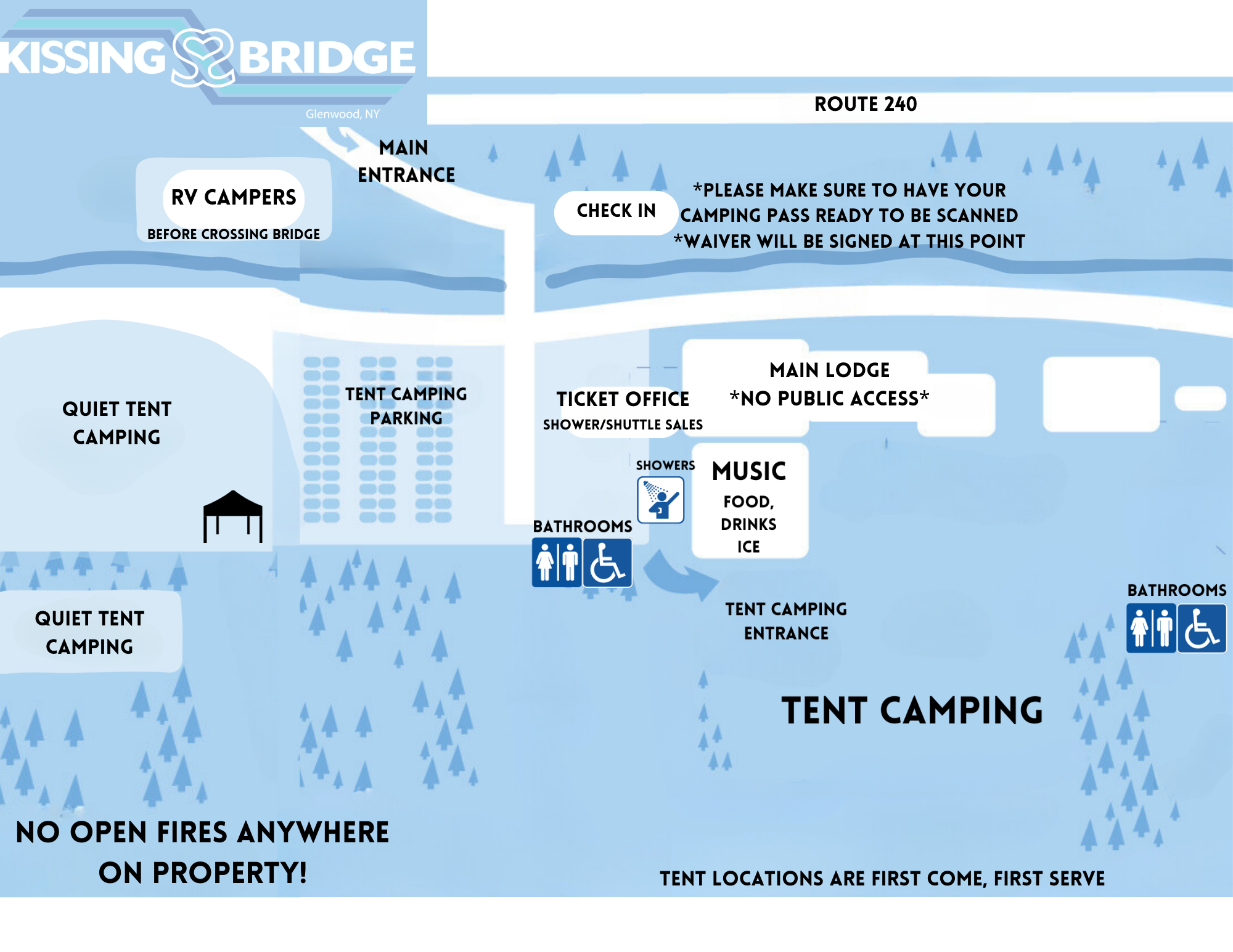 DETAILS & HIGHLIGHTS:

Each individual camper must purchase their own camping pass. The passes are NOT per vehicle or site, they are per person. You can camp with your friends at the same area (we reserve the right to separate campsites that are too large.) The per person fee breaks down to under $30 per day! Children 10 & Under are Free with a paying adult and signed waiver. All children under 17 must have a signed waiver.
Friday 9/15 - Check-in Opens: 9am
Monday 9/18 - All campers must be packed and loaded out by 10am


INDIVIDUAL CAMPING PASS INCLUDES:
3 Nights of camping
Nightly "After-Hours" party at Kissing Bridge
Free Camp Parking (1 car per pass)
Complimentary Festival Parking (1 car per pass)
"PRIMITIVE" CAMPING DETAILS
All campsites are a first come first serve basis.

Park and leave your vehicle in the main parking lot and walk to your spot.

You can camp with your friends and are not limited on space, however, EVERY person camping must purchase a camping pass.

Camping passes are NOT sold per vehicle, they are sold per person.

Tent camping only on the grass areas.

Bathrooms & Pop-up showers will be available. Lodge bathrooms will be open during specific hours and portas are available all weekend.

Kissing Bridge will provide "after festival hours" at Willie's Lodge with beer, cocktails and snacks available for sale. Breakfast & coffee options will be available Saturday and Sunday mornings.

Each camper will need to sign a liability camping waiver at check-in.

Campers will receive a camping wristband for the weekend this does NOT allow entrance to the festival. Campers will need to purchase a separate festival ticket.

Campers will pick up their festival wristband at the box office at Borderland Festival
PRIMITIVE CAMPING MEANS....
No fires

Camping stoves OK with a controlled flame

Outside Food OK

Carry-In/Carry-Out Leave No Trace (dumpsters and recycling available)

No Weapons/Firearms/Fireworks

No Illegal Substances

Smoking in designated areas only.

No pets/dogs allowed - we love dogs but this is a resort policy.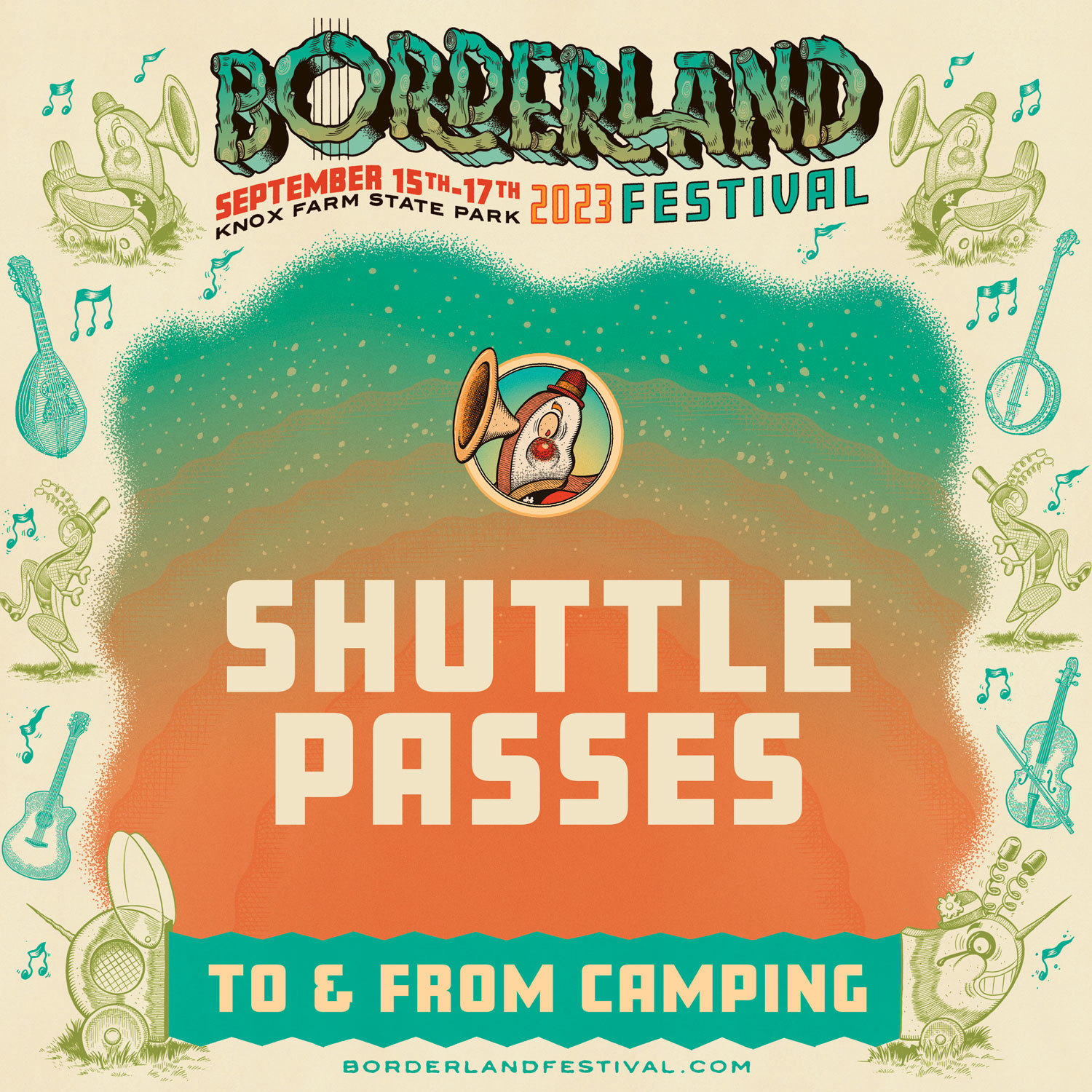 SHUTTLES & PARKING

We have weekend and single day shuttle passes available.
GET YOUR SHUTTLE PASSES HERE: https://bit.ly/borderlandshutt...
SHUTTLE TICKETS ONLY AVAILABLE FOR CAMPERS. Must have camping wristband to get on the shuttle
Sept. 15th
RUNNING TO/FROM FESTIVAL 4:30PM - 12:00AM

Sept. 16th
TO FESTIVAL: 11AM - 3PM
TO CAMPING: 8PM - 12AM

Sept. 17th
TO FESTIVAL: 11AM - 3PM
TO CAMPING: 6PM - 9PM

* SHUTTLE BUSES WILL RUN ON LOOPS DURING THE DESIGNATED HOURS

*PICK UP YOUR SHUTTLE WRISTBAND AT THE BOX OFFICE (Ticket Center) AT KISSING BRIDGE UPON ARRIVAL

*THE FESTIVAL IS 19 MINUTES FROM KISSING BRIDGE EACH WAY

*SHUTTLE BUS DROP OFF WILL BE AT THE RIDE/SHARE PICKUP AND DROP OFF LOCATION AT KNOX PARK NEAR THE RED BARN BUILDINGS OFF BUFFALO ROAD. PLEASE FOLLOW ALL SIGNAGE TO THE BOX OFFICE ENTRANCE AFTER DROP OFF

*ALL SHUTTLE BUS RIDERS MUST HAVE A BORDERLAND FESTIVAL TICKET
FREE FESTIVAL PARKING WITH CAMPING PASS

Your 3 day Camping Pass includes complimentary parking at Borderland Festival on Knox Road in the general admission festival parking area. You can drive to and from the festival. Please don't drink and drive! Have a designated driver.



TICKET POLICY
***All tickets are non-refundable
*** All tickets are rain or shine
***Ages 17 & under must be accompanied by an adult & with "minor waiver"
***Non-transferable
***Please respect your environment and LEAVE NO TRACE.

---
KISSING BRIDGE RV 3-DAY CAMPING PASS
One (1) RV Camping pass is needed for the driver of the RV. Each RV passenger needs one (1) tent camping pass to enter.
RV Parking Pass at Kissing Bridge Ski Resort

All size campers and RV's are allowed.

No hookups

No electric/ no water (must be self-contained)

Designate Generators Allowed -

No fires

Camping stoves OK (with controlled flame)

Outside Food OK

Quiet Hours for Generators: 1:30am-7am

Carry-In/Carry-Out Leave No Trace (dumpsters and recycling available)

No Weapons/Firearms/Fireworks